Better Party Bags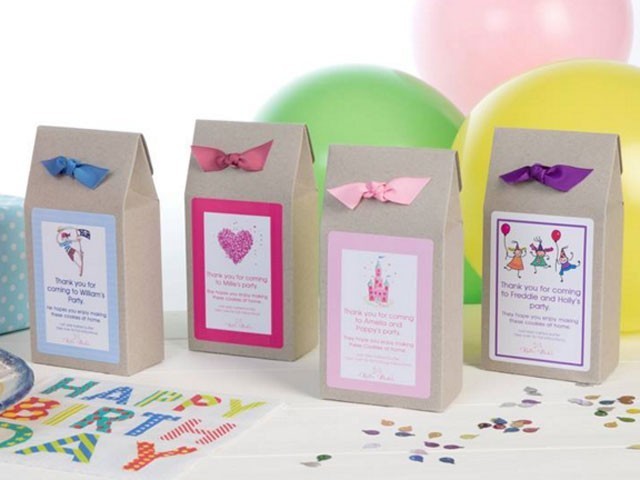 I don't mean to sound ungrateful, although I realise this is tricky given what I'm about to say, but my children so often come back from parties with a bag of sweets and/or a selection of disposable plastic toys which, (in the nicest possible way!) I think leaves much room for improvement. So, to avoid falling into a similar trap myself, I've tried to find more eco-friendly/healthier/more imaginative alternatives and have come up with a few suggestions to share which will hopefully be welcomed by both parents and children.

You can get party bags which themselves contain the dry ingredients and instructions to make biscuits, cakes or similar at home; this then gives an activity to do on a rainy day, and means all the contents are guaranteed to be put to good use! The bags look really pretty and can be tailored to your party e.g. http://www.katie-bakes.co.uk/baking-mix-party-bags (see also image above).

I've seen a couple of times parties where the children are given a book in lieu of a party bag. I think this is a great idea, especially when you dress it up with a ribbon and a balloon so that it looks the part! Throw in a piece of cake, and the gift is complete! Try Lowplex.com for great value book sets that would work perfectly.

Another idea is giving the children a small coin purse/pirate bag with some chocolate coins inside in addition to a piece of cake and perhaps a balloon. Again, presentation is key, but this can look really effective and if well-chosen, can give them something they will use again and again. Try these minature backpacks or little purses (also available direct from Lulu Bags which are likely to appeal to girls, or for boys.

If you're feeling organised and have a sewing machine, you can cut down on cost by making drawstring backs yourself. Try pirate material and cord for example. See the Time Poor Mum guide to making easy peasy drawstring bags.

For older toddlers and younger children, especially at spring/summer parties I think giant chalks for drawing and creativity outside are great and a low-cost option. Try www.hobbycraft.co.uk/chunky-pavement-chalk or these on www.ebay.co.uk if you want to reduce the packaging. These can be tied with a bow and have a balloon attached. Add a piece of cake and it's a great, useful gift in lieu of a traditional party bag.
Info
Published: Jun 1, 2017
Author: Time Poor Mum
Share
Recent posts
Archive
Category Tags