I realise I'm a bit extreme where kid's food and drink is concerned; I frown on giving them sweets, artificial stuff and processed meat. I have got 'better' but I still think that party food needs a real overhaul and we all need to give a little bit more consideration to what exactly we're giving out kids to eat and drink.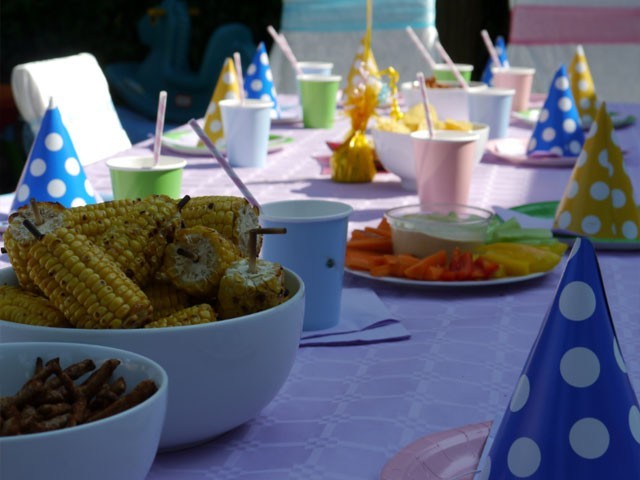 Imagine what's on a standard party food table; much of it not only has no nutritional value, it is actually bad for you. Think of the salt in the crisps and sausages, the high sugar content in the party rings and jelly, the unidentified bits in the sausages and artificial sweeteners in standard fruitshoots and squashes, to name just a few. Even for someone who isn't a food Nazi, you've got to question this, no?

I don't want to be the weird one that only gives my children organic rusks with hempseed at a party, but I have spent quite a bit of time trying to find foods and drinks that are more of a compromise, giving the sense of a treat whilst still giving some nutritional value to the children.

Mains

Mini pizzas:
Make your own if you're feeling particularly dedicated, but otherwise buy normal margarita pizzas. You can still increase nutrients by adding more tomato sauce (potentially with hidden vegetables if you're brave!). Use cookie cutters to cut out star, heart or other shapes before baking. Stick in the oven as normal (include the bits you've cut off as you can eat those later - waste not, want not!!)

Crudites with houmus:
Chop up different coloured peppers, carrots, cucumber and celery and put a pot of houmus in the centre of the plate surrounded by the veg, and you have a really nutritional plate of food that adds great colour to the table.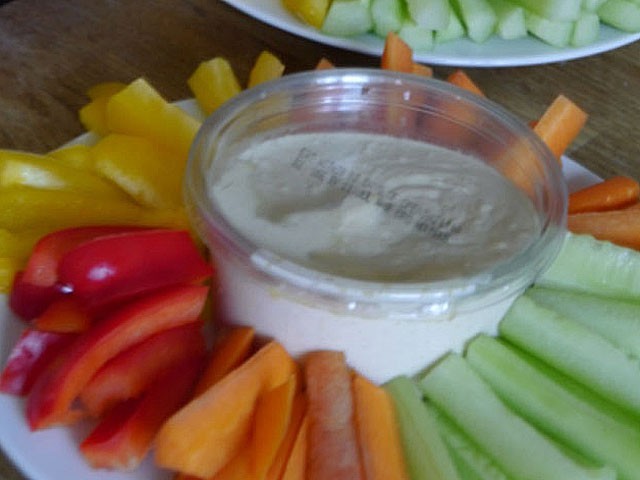 Twiglets and Kettle Chips
I know you can't make do without crisps at a party, so I had a look at the healthier options on the market. Kettle crisps are made using simple, natural ingredients. If you buy the lightly salted Kettle chips these also have significantly less salt than, say, Walker's ready salted crisps and certainly Wotsits (0.9g, 1.4g and 1.9 grams per 100 grams respectively). Although high in salt, Twiglets provide nutritional benefit in terms of being high in fibre and vitamin B, which is why they are on my list!

Corn on the cob
Simple corn on the cob, cut into thirds has proved really popular in the past at our parties. boil them in lightly salted water and spread over a little butter once done. And that's it!


Dessert

Fruit kebabs
Someone suggested these to me once (thank you to the lovely Daniela!), and I have used them at every party since with great success. Use grapes, banana slices, strawberry halves and giant marshmallows cut into two. I generally put a half a marshmallow in the centre of the kebab skewer as an incentive for the kids to eat the fruit either side. For an extra special treat, drizzle melted chocolate over the finished kebabs and let it set. These stripes of chocolate look lovely and make this fruit-based dessert a real treat for the kids.

Homemade ice lollies
Obviously this will appeal more to summer, garden parties, but the idea is so simple and inexpensive, you may want to use it at other times of year too. Use fruit juice to make homemade ice lollies such as the guava and passionfruit lollies by BBC Good Food.


Drinks

There are lots of better options than typical squash to give the children, with only a marginal difference in cost. If squash is your preferred drink, and admittedly it is what most children tend to like, then try Rocks Squash as an alternative to traditional brands. Theirs contains only organic fruit, sugar and spring water, and nothing else.

If you're keen on Fruit Shoots but want something with less artificial ingredients, then Fruit Shoot: My5 is a great choice; this contains only proper fruit juice combined with water, vitamin C and natural flavourings.

Though high in natural sugars, pure fruit juice is much better nutritionally than those with added sugar or artificial sweeteners. Pure fruit juice cartons can be picked up for very reasonable prices from the main supermarkets and are well-liked by children.

You may actually find that children quite like to have water, especially if the party involves lots of running around or it is a hot day, so it's always worth offering as an option.

I hope these ideas have given you some food for thought for your next children's party :-)
Info
Published: Jun 1, 2017
Author: Time Poor Mum
Share
Recent posts
Archive
Category Tags